Discover All About Tattoo Schools Near You: 
If you're looking for the Best Tattoo Schools or Best Tattoo Apprenticeship Near Me, you've landed in the perfect spot! Welcome to the Definitive Guide To Tattoo Schools and Tattoo Apprenticeships!
In today's post, we'll walk you through how to become a Tattoo Artist in some states! This way, you can easily find a tattoo apprenticeship and tattoo school near your location! Since each state has its requirements and various schools available, it's essential to read carefully.
Want to learn all about how to become a Tattoo Artist? Apply for the apprenticeship program at our Tattoo School! Find a tattoo apprenticeship near me 
But first, let's understand what a Tattoo Apprenticeship is!
   Think of a tattoo apprenticeship program like attending a trade school. It's a structured educational process like Ink Different's Tattoo School. Throughout your tattoo apprenticeship, you'll acquire all the necessary skills and knowledge to become a successful Tattoo Artist. A certified Tattoo Artist will mentor you, providing hands-on learning experiences.
A tattoo apprenticeship is a vital step toward becoming a successful Tattoo Artist. It is legally required in some states to obtain a license and offers a unique opportunity to shadow a seasoned Tattoo Artist. Learning from a veteran artist in person is incomparable to any online tattoo course. Real mentorship is what you truly need!
Later, we'll explore finding a tattoo apprenticeship near you. First, let's cover a few essential things about becoming a Tattoo Artist and an apprentice.
Looking for a guaranteed job offer as a Tattoo Artist? Start your tattoo apprenticeship today! 
Essential Points About a Tattoo Apprenticeship:
Tattoo Apprenticeships Are Unpaid: Gone are the days of unpaid traditional apprenticeships where you traded labor for learning. Today, you can find regulated tattoo schools or apprenticeships near you that provide the training and clarity you need without harassment or anxiety!
Apprenticeships Come With a Cost: While you must pay for your tattoo apprenticeship, the expenses are significantly lower compared to other educational options. On average, a tattoo apprenticeship costs around $10,000, making it a steal considering the potential six-figure income you can earn as a Tattoo Artist!
Time Investment: Tattoo apprenticeships can take time, ranging from one to three years or more, depending on your state's requirements. At Ink Different's Tattoo School, you can complete your apprenticeship in just one year.
Love for Art: To become a Tattoo Artist, a passion for art is necessary! Your Tattoo Artist mentor will introduce you to tattoos, so having some artistic background is beneficial. Many successful tattoo apprentices have a prior art background and work in other mediums besides tattoos.
Hard Work and Practice: Even if you possess excellent artistic skills, you must practice hours to develop your unique style and stand out from the competition. Dedicate time to daily drawing practice during your tattoo apprenticeship.
Business Skills: Successful Tattoo Artists excel in their art and possess strong business acumen. Learning budgeting and marketing skills is essential for your success. Working with a professional Tattoo Artist can help you understand these crucial aspects.
Patience and Empathy: As a Tattoo Artist, you'll often be a therapist for your clients. Tattoo sessions can be emotional, as people get inked to commemorate significant life events. Patience and attentive listening are vital qualities in this profession.
Let's explore the Requirements for Becoming a Tattoo Apprentice!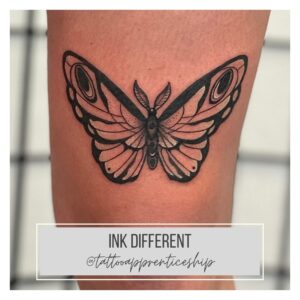 Here are a few general requirements for joining a tattoo school or tattoo apprenticeship near you
Age – In most states, you must be 18 years old to pursue a tattoo apprenticeship.
Degree – Many states require a high school diploma or a GED to become a tattoo apprentice.
Requirements by State
When you're searching for a tattoo apprenticeship near me, remember that each state has its own set of requirements for becoming a licensed Tattoo Artist. Additionally, some states may have a licensing fee, and the application process could vary. For more details on state requirements, check out Ink Different Tattoo School's 2022 Definitive Guide to Tattoo Laws, which covers how to become a Tattoo Artist in every state, including California, Connecticut, Oregon, Florida, New York, and Pennsylvania, below. This comprehensive list should help you answer the question, "How to find a tattoo school or tattoo apprenticeship near me?"
Tattoo Apprenticeship Near Me: California
In California, tattoo licensing is managed by individual county health departments. However, the state does require an LEA-Approved Bloodborne Pathogen Course Certificate and a Hepatitis B vaccination. A typical tattoo apprenticeship in California takes about a year, starting with virtual classroom sessions before moving on to in-person training. You might want to check out Los Angeles Tattoo School, which has trained over 200 professional Tattoo Artists and offers guaranteed job offers. Learn more about how to become a Tattoo Artist in California.
Tattoo Apprenticeship Near Me: Connecticut
Currently, Connecticut administers licensing at the local level, and cities like New Haven may license apprentices directly to the tattoo shop. However, these regulations could change in the future. Finding a tattoo apprenticeship at the final shop where you plan to start your career in Connecticut is always a good idea. Check out Ink Different's Tattoo Studio at New Haven Tattoo School for more information.
Tattoo Apprenticeship Near Me: Oregon
Oregon is unique in requiring aspiring Tattoo Artists to attend and complete training at a licensed tattoo school. Oregon has over two dozen tattoo schools, including popular options like Captain Jack's Tattoo School, Point of View Tattoo School, and Angel Ink Tattoo School. You can find more licensed tattoo schools in Oregon here.
Tattoo Apprenticeship Near Me: Florida
The Florida Department of Health issues Tattoo Artist licenses in Florida, which require a government-issued ID like a passport or driver's license and a score above 70% on a Bloodborne Pathogens and Communicable Diseases course. Consider our Tampa, Florida, Tattoo School in Ybor City, a vibrant and diverse part of town. The tattoo school is conveniently located near bars, restaurants, and clubs on 7th Avenue and is just a short walk from the light rail. Learn more about how to become a Tattoo Artist in Florida.
Tattoo Apprenticeship Near Me: Louisiana
Louisiana requires a license for each tattoo shop but not for each Tattoo Artist. For a local tattoo school in Louisiana, you should attend one that teaches you how to run your tattoo shop. World's Only Tattoo School is an option for such a school in Louisiana.
Tattoo Apprenticeship Near Me: New York
New York requires a three-hour course on body infection and infectious diseases, a licensing fee of $100, and a $26 price for the course. Ink Different Tattoo School in Brooklyn is a perfect place to apprentice as a Tattoo Artist in New York. The shop is adorned with fantastic art, including an awesome mural, and the team is dedicated to helping and mentoring you throughout your journey. Completing your tattoo apprenticeship at Ink Different can even lead to a guaranteed job offer!
Tattoo Apprenticeship Near Me: Pennsylvania
Pennsylvania requires a body artist certification, which covers not only tattoos but also body piercing, permanent makeup, and micro-blading. If you're local to Philly, consider checking out our Philadelphia tattoo apprenticeship program at Ink Different Tattoo School. Located a short way from downtown, the shop is welcoming and filled with talented artists excited to meet and mentor you. Learn more about how to become a Tattoo Artist in Philadelphia.
Tattoo Apprenticeships Near Me: Chicago
If you're in Chicago and looking for a tattoo apprenticeship, you're in luck! The vibrant city of Chicago boasts a thriving tattoo scene with several reputable tattoo schools and studios. To become a licensed Tattoo Artist in Illinois, you'll need to meet specific requirements, which may include completing a bloodborne pathogens course and submitting an application to the local health department.
One excellent option for a tattoo apprenticeship in Chicago is Ink Different Tattoo School. This school offers comprehensive training and mentorship from experienced artists, providing a supportive learning environment for aspiring Tattoo Artists to kickstart their careers. With a focus on hands-on experience and real-world skills, Ink Different Tattoo School is committed to helping you become a successful Tattoo Artist.
Wherever you are, we are on a mission to provide you with a tattoo school and tattoo apprenticeship near you so you can learn how to become a Tattoo Artist. Check out TattooSchool.com to learn more and explore our various locations, including our offerings in Chicago!
Need help to find your state mentioned above? Let us know, and we'll make sure to include it in our future guides!
Tattoo Apprenticeship Near Me: Cincinnati
Ink Different's Cincinnati tattoo apprenticeship program offers a unique and comprehensive pathway for aspiring tattoo artists to cultivate their skills and artistry. It is nestled in the vibrant neighborhood of Over-The-Rhine. The school benefits from its dynamic surroundings, where creativity thrives amidst a rich cultural tapestry. The program stands out for its commitment to fostering a supportive and immersive learning environment, blending traditional tattoo techniques with contemporary artistic perspectives. As apprentices engage with seasoned tattoo professionals, they gain hands-on experience, learn about proper sterilization practices, study design principles, and explore the intricacies of various tattoo styles. With its prime location and dedication to honing the craft of tattooing Ink Different's Cincinnati tattoo apprenticeship program serves as an inspiring launchpad for individuals aspiring to leave their mark on the world of body art.
Learn How to Become a Tattoo Artist At Ink Different Tattoo School
We may be biased, but Ink Different Tattoo School and Tattoo Apprenticeship Program are truly unique. Here's why – you get to apprentice with one of our professional and experienced artists, and upon completing your apprenticeship, you'll receive a guaranteed job offer! That's because we believe in your potential to make a living from your art. 
Now that you have a better understanding of tattoo apprenticeships and the opportunities available, you can confidently pursue your dream of becoming a skilled Tattoo Artist. If you're ready to embark on this exciting journey, don't hesitate to contact us at 1-917-227-2842. We're here to support you every step on your path to becoming a successful Tattoo Artist!
 Submit your art today for enrollment consideration and start your journey toward becoming a professional Tattoo Artist! Call/Text 1-917-227-2842