New Haven Tattoo School
Tattoo Apprenticeships in New England
Our New Haven Tattoo School is just four miles from the Yale campus in one of the most important cultural centers of New England with a rich history in the arts. And where there are students, you know there are people looking to get tattooed!
Ink Different Tattoo School - 920 State Street New Haven, CT 06511 - East Rock "Grad Alley" New Haven, CT
New Haven Tattoo Apprenticeship Program
When you visit our Ink Different studio in New Haven, you'll find a welcoming artistic community. If you are serious about a career as a professional Tattoo Artist, we will consider mentoring you through your tattoo apprenticeship from start to finish. Our mission is to ensure equal opportunity in the tattoo industry, for artists who want to become great Tattoo Artists and even better humans. And we're looking for artists from all walks of life who want to learn the art of tattooing and the craft of client relationships.
We are proud to offer our Tattoo Apprentices something they can only count on if they complete their apprenticeship at Ink Different:
How to Become a Tattoo Artist in New England
Your New Haven Tattoo Apprenticeship is for people who are serious about changing careers, or transforming their lives, and becoming exceptional Tattoo Artists. We are fortunate to have developed a small handful of Tattoo Artists who are willing and able to train future apprentices in a safe, structured environment, that works.
Once in our New Haven studio, you'll be trained to implement impeccable tattoos on clients, while gaining the skills, work experience, and professional development you need to launch your career as a Tattoo Artist. Apprenticeships generally take 1 year to complete.
You'll be surprised by how quickly time passes when you're training to start a job you love.
Love looking at tattoos? Check out our shop's Instagram @inkdifferentconnecticut to scroll through tattoos from our awesome team. Once you explore our feed, we're sure you'll be interested in joining us so you can start your own tattoo portfolio!
October 20, 2022
Changing Careers And Becoming A Tattoo Artist In Connecticut Might Be Perfect For Artists All Over New England So you want to know how to become a Tattoo Artist and get clients in  Connecticut, right? You're pretty sure New Haven is a great place to start, right?  You must know that a Tattoo Artist is an artist who specializes in the design and application of tattoos and is responsible for a wide variety of styles and techniques, right? Did you know that Tattoo Artists in Connecticut are actually self-employed, working in schedule-flexible tattoo studios, and have to achieve some serious […]
Why Become A Tattoo Artist in New Haven, Connecticut
Welcome to New England! Home of Ink Different in New Haven, and a part of America known for famous foods and of course the founding of the United States.
Pizza (Apizza) Paradise
Most people know Boston, Massachusetts as the largest metropolitan area in the region, yet New Haven is famous for its competing pizza parlors! Funny right? Check out the battle between Frank Pepe Pizzeria Napoletana, known simply as Pepe's, which was the first to open on Wooster Street in 1925, Modern Apizza opened on State Street in 1934, and Sally's Apizza on Wooster Street founded in 1938. They were featured in the documentary Pizza, A Love Story, which you totally should watch! Modern is right down the street from Ink Different, which makes lunch breaks a bit magical.
If you really want to be regarded as a local, there are things you need to know about the lexicon used in this pizza paradise. First off, the "Apizza" is not burned, it's charred
What all Apizza has in common is intensely hot brick ovens, and pies left intentionally longer on their decks, producing a signature deeply charred crust. Some may call it burned, but that's wrong: In New Haven, it's charred.
"Mootz" not "Mozzarella" - Most of the old schoolers in New Haven call their whole mozzarella by a single syllable: "mootz." You can get away with this on or around Wooster Street if you grew up using the word, are Italian American and want to give it a try, or work or have worked in a pizzeria and/or have some flour on your shirt.
Speaking of Italian culture, this immigrant population played a huge part in the development of the city. The Knight of Columbus, was created and is headquartered in New Haven. With its own Little Italy on Wooster Street, New Haven has kept a candle lit for one of its founder cultures, which as a tattoo artist means, you may get requests for a lot of Catholic and Italian icon tattoos. 
Music in New Haven
New England has always had a slightly stuffy culture that you can still experience at the Boston Symphony Orchestra and the Museum of Fine Arts, yet for us, the Boston Hardcore scene and the Jam Band history at Toad's Place in New Haven is a bit more interesting.
If you are really into Hardcode, Hatebreed is from neighboring Bridgeport, Connecticut. If you want to impress your grandmother, Michael Bolton is from New Haven, yet if you want to stay plugged into modern and indie-sh acts, College Street Music Hall is where you'll find your modern fix with acts like Beach House and Courtney Barnett.
Yale University 
We generally think ivy leagues are a bit out of their minds charging hundreds of thousands of dollars for an undergrad degree, yet we have to admit that education is another one of the region's strongest legacies. Now of course an apprenticeship at Ink Different costs a fraction, of a fraction, of a fraction of that price, yet we are in good company for places where people study art.
The famous mega-scale photorealistic artist Chuck Close went to Yale, as well as actors like Lupita Amondi Nyong'o, Paul Newman, and Ed Norton.
New England has a cluster of top-ranking universities and colleges like Yale, Brown, Harvard, and Dartmouth, to name a few, and the Yale campus can provide tattoo artists with inspiration, and clients! 
Growing Street Art Culture
Now you would think with all the art students at Yale, there would be some serious street art everywhere. Well, it's growing. Tagging buildings is a super no-no, yet murals are gaining popularity.  We have. feeling that as the city grows and as we attract artists from all over New England, the massive mural commission will increase! Check out the local progress so far..
East Rock - The Neighborhood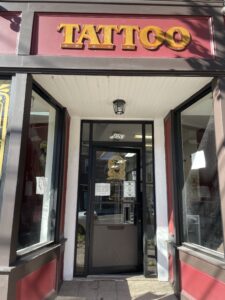 Ink Different scored arguably the best neighborhood in New Haven, East Rock, as its home. Ofter referred to as Grad Alley, you'll find graduate students and professors speckled around East Rock, as well as along our street, State Street, which has been referred to as "restaurant row," for all the bars and restaurants that surround our studio.
If you are looking for a super safe and welcoming place away from the undergrads, this is the place!
If you are serious about becoming a tattoo artist and accessing a Guaranteed Job offer in probably the best city in New England, then join us! Once you're on our team of tattoo artists, you can also take the Metro North down to NYC and tattoo at our Brooklyn studio! How do you like them apples?
We are here to give every artist a chance to make a living from their art, take the pressure off the other local artists to provide apprenticeships and build our artist family in a way that serves all the tattoo lovers in New England. From Connecticut to Massachusetts to Rhode Island, we're here to serve up amazing tattoos and happy tattoo artists, like we were Pepe's... we mean Modern... we mean Sally's... okay, all of them!
Call or Text 1-917-227-2842 to move to the front of the line and interview for an apprenticeship today.