Philadelphia Tattoo Apprenticeship Program
Ink Different Tattoo School - 810 Garrett Road Upper Darby, PA 19082
When you visit Ink Different in Philly, you'll find an artistic community that's equally as vibrant and diverse as Philadelphia itself. If you are serious about becoming a Tattoo Artist, then we're ready to talk with you about joining our tattoo apprenticeship program. Our mission is to ensure equal opportunity in the tattoo industry, worldwide. And we're looking for talented artists from all walks of life, like you.
We are proud to offer our Tattoo Apprentices something they can only count on if they complete their apprenticeship at Ink Different:
How to Become a Tattoo Artist in Philadelphia
Our Philadelphia Tattoo Apprenticeship is only for people who are serious about changing careers, or transforming their lives, and becoming exceptional Tattoo Artists. We are fortunate to have developed a small handful of Tattoo Artists who are willing and able to train future apprentices in a safe, structured environment, that works.
Once in our Philadelphia studio, you'll be trained to implement impeccable tattoos on clients, while gaining the skills, work experience, and professional development you need to launch your career as a Tattoo Artist. Apprenticeships generally take 1 year to complete.
You won't believe how fast your apprenticeship will fly by if you stay focused on training for a job you will love.
Want to get inspired by awesome ink? Check out our shop's Instagram @inkdifferentphiladelphia to see tattoos from our talented artists. Once you explore the feed, we're sure you'll be excited to join us to work on your own tattoo portfolio!
November 3, 2022
The Lies You Have To Debunk To Have A Successful Journey As A Tattoo Artist In Philadelphia Ever since you were a kid, you have thought: "Tattoos are so cool" It's just a thought you can't shake!  But chances are if your mom wasn't a hippie, her reaction was, "You're never allowed to get a tattoo. And that's final!" Why? The tattoo industry started as an "underground" art form, which hasn't always been legal. As tattooing hasn't always been in the public eye, it's been easy for stereotypes about the industry to get blown way out of proportion. Don't let […]
Why Become a Tattoo Artist in Philadelphia, Pennsylvania
It's really no surprise that artists in the mid-Atlantic region are drawn to Philadelphia. Its street art rivals New York and Los Angeles, and its music history is just as rich. On a slightly contradictory note, the "City of Brotherly" love also has some of the most aggressive sports fans in the country. 
Why is Philadelphia called the City of Brotherly Love? Well, "Philadelphia" is a combination of two Greek words: love (phileo) and brother (adelphos), yet don't bother telling anyone that if you're in town at the Linc rooting for anyone other than the Eagles.
For Tattoo Artists, this obsessive fan culture can definitely be a financial win if the teams are going well, yet there is a lot more for artists to be excited about.
Philadelphia Street Art
Like most things in Philly, the locals are not messing around. The murals around town are absolutely inspiring!
Avenue of the Arts is pretty cool for when your folks are in town, and Love Park is pretty much a must for pics when your friends are in town... and of course the Rocky Statue.
Philly Foodies
If you're not amused by the war that rages on the corner of 9th Street and Passyunk Avenue in South Philly, the cheese-steak battleground epicenter where Pat's King of Steaks and Geno's Steaks face off 24 hours a day, then you just don't understand why it's always sunny in Philadelphia.  
Very much like the pizza battles our artists to get enjoy in New Haven, the foodie fight in Philly is real! Vegans, however, can get competitive at Soy Cafe in Northern Liberties, which is pretty outstanding. Speaking of…
Fishtown and Northern Liberties
Similar to Silver Lake and Echo Park in Los Angeles, and Williamsburg and Buschwick in New York, Fishtown and Northern Liberties are side-by-side cousins that your bar hopping and mural hunting will have you winding in and out of them, even if you don't know where you are.
Like Silver Lake and Williamsburg, Norther Liberties was the first of the two to get an influx of artists looking for inspiration and less cost per square foot. Fishtown has now followed as a strong second. You can get to either easily from our shop on the SEPTA, which is like the LA and NYC subway.
The nightlife is like Ybor City in Tampa. It's condensed, walkable, and there's plenty of it. Your main music venue choices are Kung Fu Necktie and Johnny Brenda's, which are both two floors and good enough to walk into even if you don't know who's playing. 
When it comes to having the absolute best music venue down the street from the studio, Tower Theater has us covered.
Tower Theatre - Hosting Van Gogh Immersive 
The 'Fillmore of Philadelphia" started out with artists like David Bowie and Lou Reed, and right now is home to Philadelphia's Vincent Van Gogh Immersive Experience! Talk about inspiration!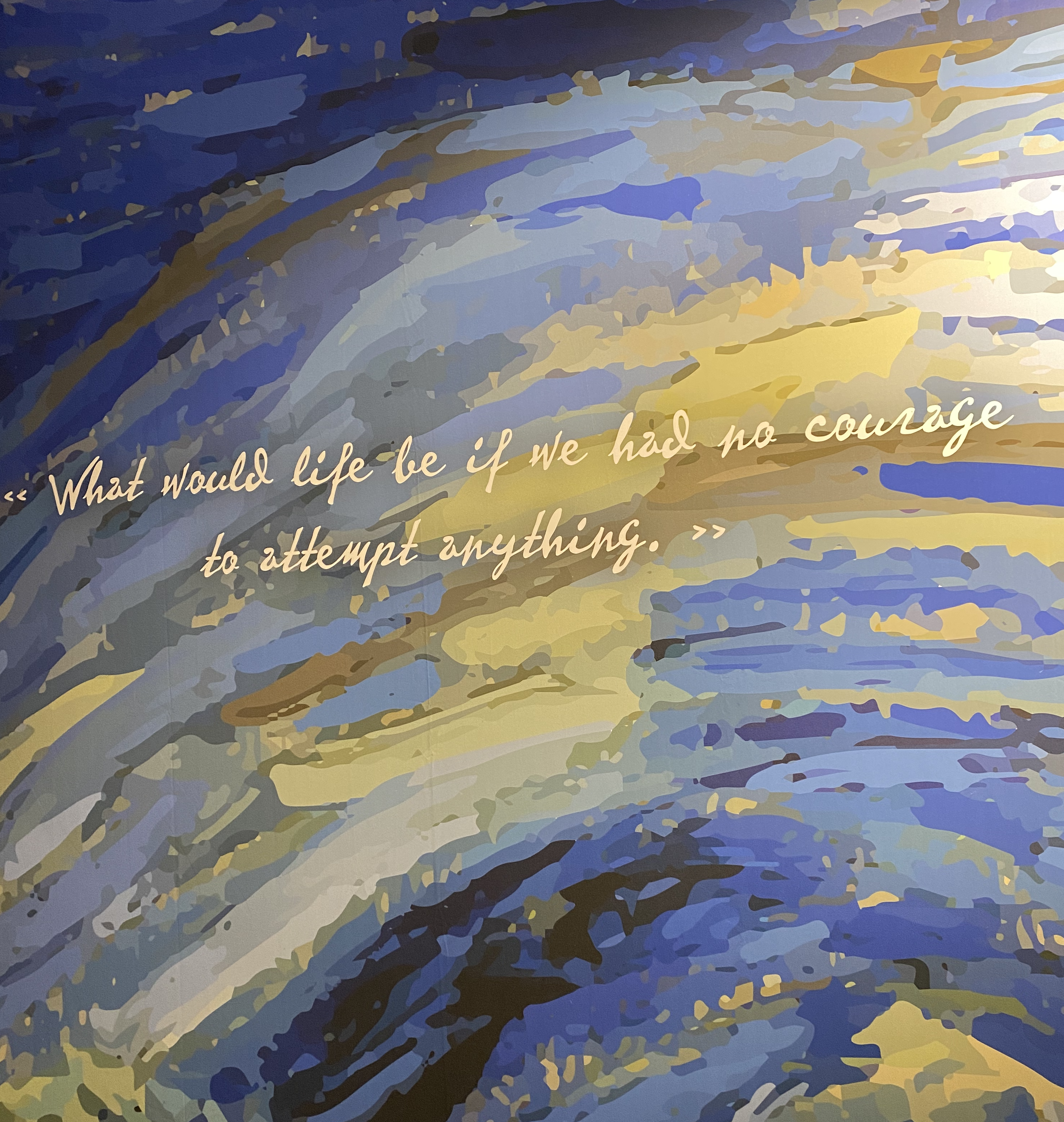 We're not saying you should cut off your ear to go there, yet this is an amazing experience to dive into and take in one of the most profound artists of all time. It's not just the art, yet his journals and letters are wonderfully inspiring.
Your Time Is Now
Here's the question, "are you going to be inspiring?" We believe you can and we believe you will. It's time to ditch that job you have just to pay the bills and start making a living from your art.
Where else in the world are you being offered a Guaranteed Job Offer as an artist? Anywhere? We doubt it. Yes, our approach follows the tradition of tattoo apprenticeships, yet where are you able to find a tattoo apprenticeship not run by someone who needs to extract every little ounce of your energy they can to make it worth their time?
We completely understand the old model of indentured servitude, and "paying your dues," and all the challenges tattoo artists faced decades ago, yet today is different. We make it different. We Ink Different and never look at you as competition. You are our future teammate. You are the person who is either going to take over and run one of our existing tattoo studios or help us open more. At the least, you're going to be a highly trained tattoo artist, helping us continue to hundreds of 5-star reviews from clients all across the country.
We are here to give every artist a chance to make a living from their art, take the pressure off the other local artists to provide apprenticeships and build our artist family in a way that serves all the tattoo lovers in the City of Brotherly Love.
It's time. Time to get serious about making a living from your art. It's time for Ink Different.
Call or Text 1-917-227-2842 to move to the front of the line and interview for an apprenticeship today.