How Parents Can Help Their Children Become Tattoo Artists In Chicago
Undoubtedly it can be very difficult for parents to help their children become Tattoo Artists in Chicago. We understand it is a challenge when they come to you with such an out-of-the-box idea! Perhaps when they were younger, you celebrated them every time they brought home a piece of artwork. If you are one of those parents who nurtured your children's artistic side, then this article is for you!
Research shows that actively engaging in creative activities is associated with better academic outcomes. It also gives children practice with self-expression, which is beneficial for emotional health and happiness in general.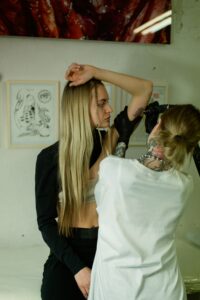 Let's fast forward to the present day. Your child is now in their early adulthood, dealing with significant life decisions like what career will make them happy. How do they get the skills for this career?
How will they get a job? 
We understand you might be finding yourself in unknown territory. If your child grew up appreciating the Windy City's art and architecture, then rest assured that Chicago is the perfect place to start their journey as a Tattoo Artist. 
Is your child an artist due to all the inspiration you've provided as a great parent? Probably.  Are you asking yourself these questions:
Is becoming a Tattoo Artist a job that inspires and rewards them financially? 
Can they earn an income equal to any other college graduate?
Does becoming a Tattoo Artist cost just like a college career?
Is there an institution for this?
Is there a tattoo school or a tattoo apprenticeship program near me?
Then continue reading this article to get all the details on how you can better assist them in starting their artistic endeavor.
Looking for information for parents of young Tattoo Artists?  Continue reading about parents who want to help their children become Tattoo Artists. 
Best Top 5 Ways For Chicago Parents To Help Their Children Become Tattoo Artists
Tattooing is an ancient practice dating back to the Stone Age. Ancient civilizations in South America and North America used tattoos in ways we might not comprehend. Nowadays, tattooing is more popular than ever before! Everyone is showing off their tattoos, from celebrities and sports stars to your local barista. For this reason, there is also a huge demand for Tattoo Artists. Here's what you can do to help your child become a Tattoo Artist in Chicago.
1. Take The Time To Help Your Child Cultivate Their Skills.
Although some creative minds are driven by the urge to prove themselves, it is a daily battle with self-confidence for many others. If your child is interested in creative pursuits, sharing or showing appreciation for these interests is essential. If your child feels comfortable and confident enough to share their creativity with you, then you can help them choose a career path in a more focused way.  
To start as a Tattoo Apprentice in Chicago, it is crucial that you reach out to a tattoo school with a trail of success. As tattoo apprenticeships are not free, it is necessary as a parent to prepare for potential financial allowance, which is way less than bearing the expenses of a university degree! Is your kid obsessed with painting, drawing, sketching, tattoos, or other visual art forms? If the answer is yes, the next step is to assist them in whatever they want to accomplish and enable them to turn it into a successful profession. 
Learn more about the profession on our website or read how to change careers and become a Tattoo Artist!
2. Prepare Them For Hard Work 
Becoming a tattoo artist in Chicago is not something you do overnight. You follow an apprenticeship with an experienced tattoo artist to learn to tattoo professionally and safely. During the apprenticeship at Ink Different Tattoo School, your kid will comprehend everything about this discipline. From drawing techniques and how to execute a tattoo to machine maintenance and tattoo safety. Learning will be their first big step.
Just like any other profession, becoming a Tattoo Artist in Chicago requires a lot of hard work and long hours. After completing a tattoo apprenticeship, the Tattoo Artist begins to work independently, yet their work is not done. All tattoo artists make a name for themselves by using social media, developing excellent customer service skills, maintaining a great portfolio online, and meeting people by networking offline. We cover all aspects of the profession in the Tattoo Apprenticeship Program at Ink Different Tattoo School. 
Looking for a guaranteed job offer as a Tattoo Artist? Start your tattoo apprenticeship today! 
3. Introduce Them To The Right Mentors
Again, for parents who want to help their children become Tattoo Artists in Chicago, you get to be in a very fortunate position; now Ink Different Tattoo School has just arrived in your backyard! The right mentors in a tattoo apprenticeship mean absolutely everything! Unfortunately, before we opened our structured apprenticeship program, the old-school approach in the tattoo industry was anything other than structured. It was a crap shoot of potential hazing, harassment, theft of services, and maybe now and then, someone who was calm and caring. Finally, you don't have to worry about a questionable mentor today! Today, you have access to a nationwide team that has transformed countless aspiring Tattoo Artists into working professional Tattoo Artists with beautiful careers. 
If you are a parent unfamiliar with the tattoo industry, finding any mentors at the Ink Different level can be quite challenging and stressful. Lucky for you, you don't have to look any further. We are here to help!

4. Prepare For The Costs
As a Chicago parent interested in helping your child become a Tattoo Artist, we understand that any costs associated with education are a concern. We understand that parents are not immediately willing to contribute to such a high investment, nor does it always make sense to spend six figures on a college education. We would argue that it is rarely ever worth it. Especially now, the number of people dropping out of college has increased to 32.9% while prices continue to skyrocket. To make the profession of Tattoo Artist accessible, the Tattoo School Apprenticeship Program is available for a fraction of the average four-year degree.
One thing you need to remember, outside of the minimal cost of a tattoo apprenticeship program, is the cost of supplies they will need at the beginning of their career. At Ink Different Tattoo School, all the essential equipment is provided as part of their program, yet as your child gets better, they will begin to want to expand their collection of machines and the palettes of color they work with. These expenses are nominal, yet we're just sharing them with you, so these costs don't come as a surprise in the future.
If your child joins us, they will learn the profession of tattooing step by step. After the program's first phase, where the student masters the basics through one-on-one training in our online classroom, they move on to the one-on-one physical training phases of their apprenticeship inside our studios. This ensures that they know what it takes to tattoo for a living and will completely understand how a tattoo studio works and its role.
Want to learn all about how to become a Tattoo Artist? Apply for the apprenticeship program at our Tattoo School! Find a tattoo apprenticeship near me 
5. Support Them On The Pursuit Of Their Passion 
Do you believe your child's talent can lead them to a successful career as a tattoo artist? If so, it is crucial to explore this ambition further. Be sure your child knows that tattooing is a profession to commit to, not a hobby. As we mentioned before, compared to the costs of a four-year degree, the prices are next to nothing, yet they are not free; therefore, it is vital to make sure they know this early, and then you move swiftly towards helping them achieve it.
If this is the case, look no further because, at Ink Different Tattoo School, we guarantee that as long as your child completes their apprenticeship, they will be well-prepared with a Guaranteed job offer in the tattoo industry.
Ink Different Tattoo School Chicago Apprenticeship
We're not trying to brag, but we've trained more than 200 Tattoo Artists. We think it is safe to say that our apprenticeship works! Our tattoo program continuously adapts to fulfill the needs of young tattoo artists. Apprentices start their program online, working one-on-one with an experienced mentor. After completing the work-from-home phase and meeting the program's requirements, the apprentice will apply the experience they have gained in our studio. They will be overseen by a professional tattoo artist as they achieve mastery, allowing them to receive an income. 
Tattoo Artists can work at someone else's tattoo studios, or they can even open their own. There are opportunities for tattoo artists to work with everyone, from celebrities to the local car wash staff. They are not bound by traditional office hours and can work evenings or weekends. This is a good option for tattoo artists looking to make a living while doing something they love. 
We want you to enjoy the pride of knowing that you found what you needed as a parent looking to help ensure your child becomes a professional Tattoo Artist in Chicago. We also hope it's clear that the best way for Chicago Parents to help their children become a Tattoo Artist is through Ink Different Tattoo Apprenticeship Program.
Your next step is to contact us to secure an interview for the Tattoo Apprenticeship Program.
Call or Text 1-310-413-0709 to move to the front of the line and interview for an apprenticeship today.