Unveiling the Mysteries of Ink
Tattoos have been a part of human culture for centuries, serving as symbols of personal expression, cultural heritage, and individual identity. They can tell stories, evoke emotions, and make a lasting impression. But did you know tattoos hold some intriguing secrets beneath their vibrant exterior? This article will delve into the lesser-known aspects of tattoos and reveal 3 fascinating tattoo secrets you probably never knew.
Looking for a guaranteed job offer as a Tattoo Artist? Start your tattoo apprenticeship today! 
1. The Art of Invisible Tattoos: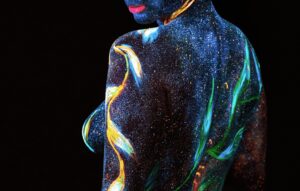 Prepare to step into a world where tattoos take on an extraordinary twist, where artistry meets a touch of magic. Enter the realm of invisible tattoos! These captivating creations, also known as UV tattoos, are crafted using ultraviolet (UV) ink. It remains invisible under standard lighting but reveals its true colors under UV or blacklight. It's like having an enchanting secret etched onto your skin! Just waiting to be unveiled in the most unexpected moments! Invisible tattoos offer a unique and whimsical way to express yourself. They allow you to choose when and where to showcase your hidden masterpiece.
The artistry behind invisible tattoos is genuinely awe-inspiring. Talented Tattoo Artists skillfully use UV ink to create intricate and stunning designs. They seamlessly blend with the skin, only to come to life when exposed to the proper lighting. From delicate symbols to complex patterns, the possibilities are endless! Whether you want a discreet tattoo that only appears in specific settings or a mesmerizing surprise for those who know your secret, invisible tattoos offer a remarkable way to add an element of mystery and enchantment to your body art.
One of the most delightful aspects of invisible tattoos is the element of surprise they bring. Imagine stepping into a blacklight party or a club. As the neon lights flicker on, your tattoo emerges in a dazzling display of vibrant colors. It's a conversation starter! It's a source of wonder! And a truly memorable experience! With invisible tattoos, you can control when and how your art is revealed. This wau you make each encounter with your tattoo a moment of delightful anticipation. So, if you're seeking a unique and extraordinary way to express yourself, delve into the magical world of invisible tattoos! Let your skin become a canvas of hidden wonders!
Want to learn all about how to become a Tattoo Artist? Apply for the apprenticeship program at our Tattoo School! Find a tattoo apprenticeship near me 
2. The Power of Cover-Up Tattoos:
Another fascinating secret about tattooing lies in the art of cover-up tattoos. While tattoos are typically permanent, individuals sometimes want to conceal or transform an existing tattoo. Cover-up tattoos offer a unique solution! Wheter due to a change in personal taste, a desire to update or enhance an old tattoo, or even to disguise a tattoo that holds negative memories.
Cover-up tattoos involve strategically designing a new tattoo to effectively camouflage or incorporate an existing tattoo. Skilled Tattoo Artists utilize their expertise in color theory, composition, and design to create a unique piece. This design must effectively conceal the original tattoo while resulting in a visually appealing and cohesive composition.
The process of designing a cover-up tattoo requires careful consideration of the existing tattoo's size, color, and placement. The artist must select appropriate colors and patterns that effectively blend or mask the old tattoo. This will ensure it doesn't show through the new design. This skillful technique allows individuals to transform unwanted or outdated tattoos into unique art! But it will also give them a renewed sense of satisfaction and confidence in their body art!
Cover-up tattoos also demonstrate the ingenuity and creativity within the tattooing community. Why is this? Well because they offer individuals a chance to start afresh or repurpose their existing ink. In fact, we consider it is a testament to the versatility and transformative nature of Tattoo Artistry! It provides a means to rewrite the narrative! But also to turn a tattoo, once a source of dissatisfaction, into a symbol of personal growth and reinvention!
So, if you ever desire a change or seek to revamp an old tattoo? Consider exploring the world of cover-up tattoos! It's a hidden secret within the tattooing realm. It shows how skilled artists can work their magic and create a stunning new piece of body art. A piece that conceals and transforms! Subsequently giving you a fresh canvas to proudly display!
Looking for information for parents of young Tattoo Artists?  Continue reading about parents who want to help their children become Tattoo Artists. 
3. The Therapeutic Power of Tattoos:
Beyond their artistic appeal, tattoos hold a remarkable therapeutic power that can transform lives and foster emotional healing. As a result, many individuals choose to get tattoos to reclaim control over their bodies and express their innermost emotions, creating a lasting reminder of their personal journey and growth.
For some, tattoos become a powerful tool for emotional healing. Getting a tattoo can be a cathartic experience, allowing individuals to symbolically release past pain, trauma, or grief. Through tattooing, they can transform their scars into works of art or commemorate significant milestones that mark their resilience and strength. In addition, tattoos are tangible reminders of personal transformation, turning emotional wounds into symbols of empowerment and self-acceptance.
Moreover, tattoos have found a meaningful place in the medical field, aiding individuals reclaiming their bodies after illness or surgery. Cancer survivors, for instance, often choose tattoos to conceal surgical scars or mark significant milestones in their recovery journey. In addition, these tattoos serve as visual representations of their triumph over adversity and as a source of comfort and inspiration during challenging times. The therapeutic power of these tattoos lies in their ability to provide a sense of control, ownership, and beauty in the face of adversity.
Furthermore, tattoos can help individuals preserve the memory of loved ones who have passed away. Memorial tattoos are heartfelt tributes, immortalizing the bond shared with a lost loved one. They provide solace, allowing the wearer to carry their memories and love forever etched on their skin. Selecting and receiving a memorial tattoo can be profoundly healing, fostering a sense of connection and offering a tangible way to keep the presence of the departed close.
Tattoos possess a profound therapeutic power beyond mere aesthetics. They serve as personal canvases for emotional expression, healing, and self-empowerment. Whether it's reclaiming control over one's body, commemorating a personal journey, or honoring the memory of a loved one, tattoos can heal, inspire, and provide solace. So, next time you encounter someone with a tattoo, remember that there may be a deeply personal and therapeutic story behind their ink, a story of resilience, growth, and the indomitable human spirit.
Learn more about the profession on our website or read how to change careers and become a Tattoo Artist!
Ink Different Tattoo School
As we conclude this exploration of intriguing tattoo secrets, it's essential to acknowledge the significant role that education and apprenticeship play in tattooing. For example, suppose you've been inspired by tattoos' artistry and transformative power and are considering pursuing a career in the industry. In that case, Ink Different Tattoo School offers an exceptional opportunity through its tattoo apprenticeship program.
Ink Different Tattoo School is committed to providing aspiring Tattoo Artists with comprehensive training, mentorship, and hands-on experience. Our apprenticeship program not only equips students with the technical skills required for tattooing but also emphasizes the importance of safety, hygiene, and ethical practices. Additionally, with a curriculum designed to nurture creativity and individuality, Ink Different Tattoo School fosters an environment where aspiring artists can develop their unique style and artistic voice.
What sets Ink Different Tattoo School apart is our guarantee of a job offer upon completion of the tattoo apprenticeship program. This assurance provides a valuable opportunity for budding artists to confidently embark on their tattooing journey, knowing that they have support and employment prospects awaiting them. Our dedication to supporting our students' professional growth and success is a testament to our commitment to the art form and the thriving tattoo community.
In conclusion, tattoos captivate us with beauty, symbolism, and hidden stories. From the secrets of invisible tattoos to the therapeutic power they hold, tattoos are more than mere ink on skin. They represent personal expression, healing, and self-discovery. If you're passionate about tattoos and dream of pursuing a career in this dynamic field, Ink Different Tattoo School's tattoo apprenticeship program, coupled with a guaranteed job offer, presents a remarkable opportunity to embark on a rewarding journey as a professional Tattoo Artist. So, ink up your aspirations, seize the chance to learn and grow, and embrace the incredible world of Tattoo Artistry.
Sign up for an apprenticeship today and start your journey toward becoming a professional Tattoo Artist! Call/Text 1-917-227-2842