Top 7 Must-Have Investments For Successful Tattoo Artists
Why Is It Important To Have Good Tattoo Equipment?
We've heard you're serious about becoming a Tattoo Artist. If so, leveling up and investing in good-quality equipment is crucial. Along with Tattoo School, tattoo gear and cleaning supplies are must-have investments in your career as a tattoo artist. It's vital for your safety and the quality of your work that you can count on the best quality equipment you can find. This article will explore why good equipment is essential for Tattoo Artists and the consequences of using subpar gear.
At Ink Different Tattoo School, we constantly update our equipment to ensure you will learn how to tattoo professionally with the best gear. We'll also provide a list of must-haves for any aspiring tattooist. So, if you're ready to become a professional Tattoo Artist, read on!
What else makes a fantastic tattoo outside a tattoo school, design, color, and size? No matter how beautiful the design is, if a person applies it without the necessary training, experience, and tools, the tattoo will not look as impressive as it should.
As you create your style and brand as a Tattoo Artist, there will come a time when you need to start seriously investing in it, the same way you are investing in your Tattoo School. Finding resourceful and affordable kits may sound feasible, but don't lose sight of the fact that your clients will become walking art references for your work.  
Want to learn all about how to become a Tattoo Artist? Apply for the apprenticeship program at our Tattoo School! Find a tattoo apprenticeship near me. 
What Are The Consequences Of Having Bad Tattoo Equipment?
Your initial responsibility is to ensure you get the knowledge, education, and practice. Once you get this, you must know how owning good-quality equipment will impact your portfolio and the client experience.
Creating unique and stylish tattoos will be challenging if you use poor-quality equipment. Therefore, having good equipment is a must-have investment for Tattoo Artists. Unfortunately, your clients will be disappointed with their tattoo results, and you may even lose future business. In addition, other Tattoo Artists and the overall industry will not take you seriously.
Looking for information for parents of young Tattoo Artists? Continue reading about parents who want to help their children become Tattoo Artists. 
The Importance Of Making Good Investments For Tattoo Artists
Investing in quality tattoo equipment is an investment in your brand. Using cheap equipment might save you money in the short term but will cost you more in the long run. As a Tattoo Artist, you should be committed to delivering the best possible results; this is why we believe in our tattoo apprenticeship program, where we teach you the best techniques and the proper procedures to become a tattoo artist with a successful career. Remember that poor quality equipment can lead to multiple severe issues for the Tattoo Artist and client, such as subpar tattoos, infections, and an overall lack of respect from the art and tattoo community. Additionally, using cheap tools can put you at risk of injuring yourself and your client. The value of a good Tattoo School cannot be compromised; having the right amount of knowledge and the proper mentorship will affect your success tremendously.
Good quality equipment will last longer and provide better results. In addition, understanding sterilization techniques to protect yourself and your clients from infection and disease. 
Tattoo Artist's Must-Have Investments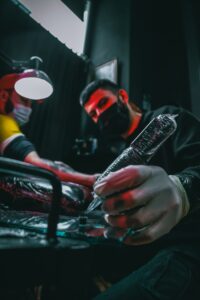 Tattoo Artists need an eye for detail and the ability to create unique designs and experiences that please their clients. If you don't have these qualities, standing out against the competition will be challenging. However, at Tattoo School, we believe in empowering you with the right tools and knowledge to ensure you overcome these challenges swiftly!
High-quality tattoo equipment, a strong understanding of sterilization and tattoo design techniques, and creativity are pillars of your trade that should always be present. 
To be successful, there are some must-have investments as a Tattoo Artist that you need to look into:
Sterilization Equipment 
When working at a tattoo shop, sterilization is crucial if the ink or needles are contaminated, especially if the skin area still needs to be cleaned and sanitized.
Needles
Knowing if you have the appropriate needle for the job is crucial when working with tattoos. Various tattoo needle sizes are needed for multiple tattoo styles. In addition to reducing injuries from needle pokes, a good sharps container will keep those disposed of needles from dispersing undesired substances. 
Looking for a guaranteed job offer as a Tattoo Artist? Start your tattoo apprenticeship today! 
Medical Supplies
Cleaning and medicinal tattoo supplies are must-have investments for Tattoo Artists within their tattoo shops. Masks, gloves, dental bibs, and disinfectants are just a few examples. However, when it comes to this step of the process, there are no shortcuts. While tattooing, you're dealing with biological fluids. Therefore everyone needs to be protected against disease and infection. Otherwise, it won't be much fun!
Tattoo Machine
Many components go into a tattoo machine, so getting to know them can help you pick the one that best suits your requirements. All machines—rotary, coil, and pneumatic—have advantages that can affect your tattooing style differently. Keep in mind not to compromise quality. Cheap machines lead to cheap-looking tattoos.
Tattoo Ink
Ink is the other essential tattoo component. Choosing ink largely depends on your preference, just like with tattoo machines. Inks can also have distinct qualities, like being organic or vegan-friendly. The ink is an obvious statement of the artist and how he or she views the world. Like machines, choosing cheap ink leads to cheap-looking tattoos and, even worse, possible infection!
Other Essential Investments for Successful Tattoo Artists.
To tattoo successfully, you need to consider several investments to become a successful tattoo artist. 
It would be best if you had proper ventilation. This will help you avoid dizziness or lightheadedness when working in small, enclosed spaces. 
Your work area needs to be well-lit. Producing good-quality artwork without professional lighting will be a significant challenge.
Your workstation needs to be clean and organized. This will help you stay focused and avoid wasting time looking for things. 
Learn more about the profession on our website or read how to change careers and become a Tattoo Artist!
How To Know If You're Buying Quality Tattoo Equipment.
Look, there are a few things to remember when making investments to be a successful tattoo artist. First, check for reviews to understand which products are the best on the market. Second, look for warranties to ensure that you are getting a quality product. Lastly, be sure to purchase your equipment from a reputable source. 
If possible, talk to other Tattoo Artists and get their recommendations. Also, look for a warranty or guarantee that comes from the manufacturer. This will give you peace of mind knowing that you are covered if something goes wrong with the equipment.
By following these tips, you can be sure you are getting the best possible tattoo equipment. However, the first step towards a successful tattoo career is finding the right tattoo apprenticeship program for you.
Since 2001, Ink Different Tattoo School has embraced the mission to provide equal opportunity to everyone whose dream has ever been to take a leap and become a professional Tattoo Artist.
As mentioned in this article, we believe in empowering our students with the knowledge to pave the road toward a successful tattoo career. Therefore, you don't need to stay longer at that tedious job! We are more than glad to answer your questions and assist in comparing which may be the best option for you!
Call or Text 1-310-413-0709 to move to the front of the line and interview for an apprenticeship today.