The Lies You Have To Debunk To Have A Successful Journey As A Tattoo Artist In Philadelphia
Ever since you were a kid, you have thought: "Tattoos are so cool" It's just a thought you can't shake!  But chances are if your mom wasn't a hippie, her reaction was, "You're never allowed to get a tattoo. And that's final!" Why? The tattoo industry started as an "underground" art form, which hasn't always been legal. As tattooing hasn't always been in the public eye, it's been easy for stereotypes about the industry to get blown way out of proportion. Don't let those myths about the tattoo industry in Philly fool you!
Here at Ink Different Tattoo School, we aren't only obsessed with tattoos and the art of tattooing. Still, we consider ourselves extremely lucky to be able to train aspiring Tattoo Artists. You see, we are pleased to educate aspiring Tattoo Artists from every walk of life. College-aged kids who decide they want to jump-start their art careers by foregoing the "traditional school program" and starting their tattoo apprenticeship. Other aspiring artists have been in their current careers for years and years but have decided to follow their art dreams. No matter how you found us!, we're grateful you did, and we are excited to guide you on your journey toward becoming a tattoo artist in Philadelphia. Now let's debunk the TOP 5 Myths in the Tattoo Industry!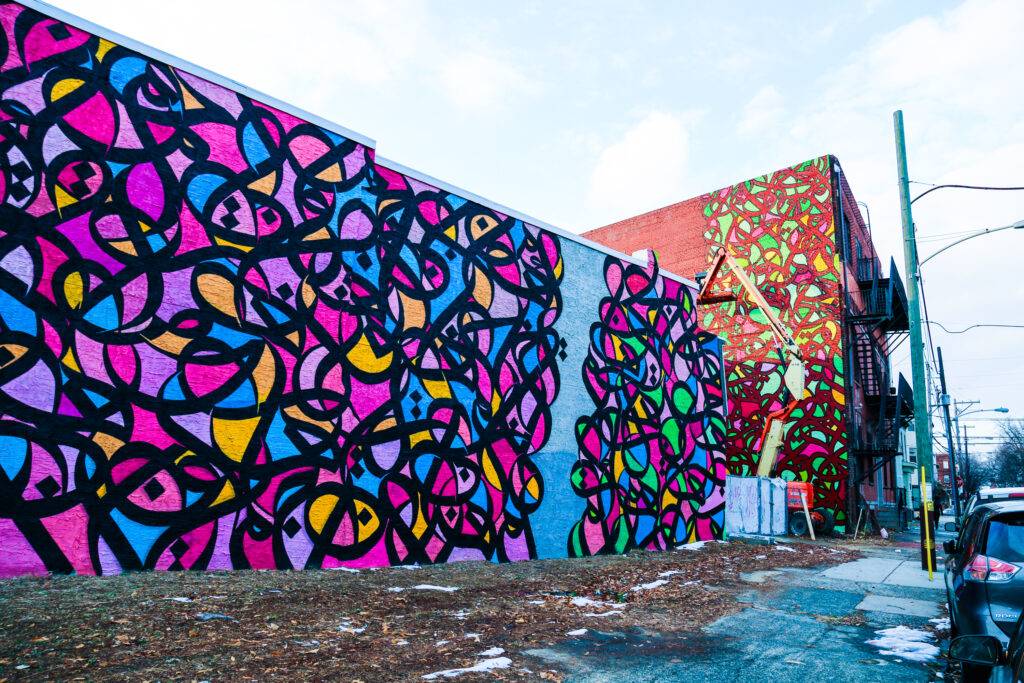 Top 5 Myths About The Tattoo Industry In Philly Busted
1 – Only Sailors, Bikers, And "Bad Guys" Get Tattoos. Myth BUSTED. This is False.
To be honest, the only way back in the day, this myth could have been confirmed. When tattooing was underground, people who were "outsiders" of mainstream society were the majority of people getting tattooed. Indeed you've watched old movies where criminals get tattoos in jail, or the sailors are out at the bar and head to the tattoo parlor after hours. At our tattoo school, we pride ourselves on our tattoo studio being a safe space. We welcome everyone and anyone as long as they respect our artists and our other clients. We don't welcome any form of hate or violence in our shops. Even though we are open and inclusive, we preach love and respect, which is the basis for everyone to feel safe and represented within our space.
2 – Tattoo Artists Are Mean And Intimidating. Myth Busted. This Is False.                              
Another one of the myths about the tattoo industry in Philly could have only been faithful or partly true back in the day when tattoos were an illegal art form. This stereotype came about because tattoo clients were originally people who were "rough around the edges," and as Tattoo Artists were rare, many artists didn't care about customer service. However, tattooing has become mainstream, and a career as a Tattoo Artist is the "it" career in art. Therefore customer service has become an integral part of the job. 
At Ink Different Tattoo School, we believe in the high quality of our tattoos but also in providing world-class customer service. During your tattoo apprenticeship, you will learn the art of tattooing, the techniques required to provide a beautiful tattoo, and the dos and don'ts of customer service. This includes people skills and customer relations. Asking questions, active listening, rapport building, and communicating to help build trust with your clients. 
Just take a look at our 5 Star Reviews:
Bea G
3 weeks ago: Great place with great vibes. The Tattoo Artist (Luis) we had is professional, comforting & chill. It was a quick session but so worth the trip & we love the finished pieces.
Anya Draves
2 weeks ago: Halie did SUCH an incredible job! I couldn't be more pleased. She drew the sketches ahead of time which saved time when I arrived for my appointment. She was super friendly and accommodating, very professional and a talented artist, and I felt very comfortable the whole time. Also the location itself had great vibes and everything was very sanitary. The needling took way less time than expected and I think the price was quite reasonable. I also liked that she placed a transparent adhesive over the tattoo that you wear for a week and it heals everything so you don't have to do any aftercare. I would highly recommend this place to anyone!
Anthony Martinez
4 weeks ago: What a great shop. Got my daughter's name on my right forearm. It turned out awesome. The students they turn out are really damn good as well. Very very meticulous.
Can you see how they speak for themselves?
3 – Tattooing Is Part Of A "Out Of Control" Lifestyle. Myth BUSTED. This is False. 
There are two reasons some people believe this is true. First of all, many people think tattoo studios are dramatic places to work. A large part of that is contributed to reality tattooing shows, which show the Tattoo Artists and clients having arguments all the time. Be warned; almost everything you see on television is scripted! The made-up tattoo drama is to get viewers to keep coming back and watching. Remember, reality tv is bogus! If you are a parent trying to help your kid become a tattoo artist, please don't believe these lies!
The life of a professional Tattoo Artist at Ink Different, is a very normal one filled with interesting customers, exploring new tattoo styles, creating beautiful art, and a sense of achievement that you can only fulfill when your passion and hustle align. No wonder our Tattoo Artists show up at our studios excited to start a new working day! When was the last time you felt this good about a job?
Another reason people assume tattooing leads to a "wild" lifestyle is the stereotype that Tattoo Artists always party. Remember, we all have different needs and lifestyles. Of course, we aren't ones to judge anyone's choices. However, most Tattoo Artists are normal people with very everyday lives. They love their career, and like everyone else, they have different routines and rituals required to make their everyday work for them. When the work day is over, most of them prefer to go home and draw tattoo designs, spend quality time with their families, or just rest. 
Are you the parent of an aspiring Tattoo Artist? Continue reading: "parents who want to help their children become Tattoo Artists".
4 – You'll Never Find A Tattoo Apprenticeship. Myth BUSTED. This is False. 
This is the most outdated myth of all the myths about the tattoo industry in Philly, based on the fact that when tattooing was a young craft it was always a challenge to find a veteran Tattoo Artist willing to mentor an aspiring artist during their apprenticeship phase. But this myth could have also come to fruition because most aspiring Tattoo Artists didn't want a traditional tattoo apprenticeship. There is a stigma attached to a traditional tattoo apprenticeship due to the toxic culture of abusing apprentices. And unfortunately, most of it is true. Tattoo apprentices in traditional tattoo apprenticeships are working 50 – 60 hours of unpaid labor a week, demanded to scrub toilets and floors, and expected to run errands for the Tattoo Artists. 
Find a tattoo apprenticeship near me.
At our tattoo school, our tattoo trainers are passionate about guiding and overseeing our tattoo apprentices to make strides and progress during their apprenticeships. We would never expect an apprentice to do anything we wouldn't do. Apprentices in our shops are there to learn, not clean and work for free. At Ink Different Tattoo School, all of our tattoo apprentices make a percentage of every practice tattoo. Cool beans right? We don't expect anyone to work for free! We want to show you how great your life can be if you pursue a tattoo artist career!
5 – It's Impossible To Find A Job Once You Complete Your Tattoo Apprenticeship. Myth Busted. This Is False.
We can't speak for all apprenticeships, but at Ink Different, upon completion of your tattoo apprenticeship (drum roll please), we offer you a  GUARANTEED JOB OFFER at any or all of our tattoo studios! How amazing does this sound!? We really want to take the hesitation out of changing careers and becoming a Tattoo Artist. How many colleges and/or universities with art majors offer guaranteed jobs upon graduation? NONE! So why would you contemplate a 4-year college over a tattoo apprenticeship? And what would possess you to stay in that job you hate!??? It's time to love your career and make a living from your art! It's time you start your tattoo apprenticeship with Ink Different Tattoo School!  Don't let any of these myths about the tattoo industry in Philly stop you from becoming a Tattoo Artist!
Tip: Follow a tattoo apprenticeship at Ink Different Tattoo School and get a guaranteed job offer as a Tattoo Artist after completing the apprenticeship. 
Are You Ready To Make A Living From Your Art?
Now that we have crushed all the myths of tattooing and being a Tattoo Artist, the only question left is…When are you starting your tattoo apprenticeship?
The sooner you start the sooner you can enjoy all the perks of being a Professional Tattoo Artist…
Become your own boss,
Create your own work schedule
Earn a limitless income from your Art
Your tattoo apprenticeship can be made to fit around your current work schedule and/or busy family life. Let us help you create the life you've always dreamed of! Be sure to follow us on TikTok & Instagram to get a look inside our apprenticeship. 
Remember, one day it could be your artwork we're featuring. Don't wait. Spots are limited, so chat with us today!
Call or Text at 1-917-227-2842 to move to the front of the line and interview for an apprenticeship today.