Everything You Need To Know About Why You Should Become A Tattoo Artist in Los Angeles
Becoming a Tattoo Artist is one of the most exciting and creatively rewarding experiences a person can have in their professional career. For artists who live in sunny California, and especially Los Angeles, we know just how eager you are to find a tattoo apprenticeship near you and that you have your own reasons to become a Tattoo Artist in Los Angles, like yesterday!
Some of you are looking to change careers to become a Tatto Artist, and some of you are fortunate enough to have a parent who is looking to help their child become a Tattoo Artist in Los Angeles, and some of you have heard about the Guaranteed Job Offer as a Tattoo Artist that you can achieve when you complete your tattoo apprenticeship. Either way, you're on a great path!
After 12 Years of training artists to become Tattoo Artists through Ink Different Tattoo School's Tattoo School, we're sharing our…
 Top 12 Reasons You Should Launch Your Career As A Tattoo Artist In Los Angeles.
If you're wondering how to become a Tattoo Artist, get a tattoo apprenticeship, or get a tattoo license, you've come to the right place. Ink Different Tattoo School is your ultimate resource for all things Tattoo Artist training.
1 – Los Angeles Tattoo Scene Has A Rich History.
Tattoo culture may have been born in New York, but in sunny California, tattoo art and Tattoo Artists have thrived. A gateway to the Pacific, Los Angeles accepted and endorses the world's cultures, especially their tattoos and tattooing techniques. Oceanic and Asianic cultures have provided a rich context for the history of the culture in Los Angeles as well as the age-old tradition that has made its way into every beach, restaurant, and tattoo shop in the city. 
During World War II, as a lot of young Americans made their way across the ocean to Hawaii, they encountered the great tradition and art of the natives there. Former Navy men turned tourists created ink at shops and helped shape the American Traditional style of tattoos. Innovations in needle design and color pigments made it safer and easier to make dreams come true. As the war ended, Americans made their way back to the coasts, and southern California became a vibrant place to tattoo. 
Looking for an apprenticeship in Los Angeles right now? Call/Text 1-310-413-0709
While Los Angeles has only continued to grow since then, the influence of modern artists and techniques lives on, making L.A. an epicenter of tattoo culture today and one of the most vibrant tattoo scenes in the world. 
2 – You Can Start Your Tattoo Apprenticeship Right Away
When you become a tattoo apprentice at Ink Different Tattoo School, you will start your tattoo apprenticeship online in a live virtual classroom. Training one-on-one with successful Tattoo Artists, all while never leaving the comfort of your home. Once you pass your virtual classroom requirements, you'll complete your apprenticeship in person at one of our studios. The program usually takes one year to complete. After you have completed your training with us, you'll secure a Guaranteed Job offer as a Tattoo Artist. 
3 – YES You CAN Make A Living As A Tattoo Artist. 
The average income for a Tattoo Artist in California is $63,456 according to Zippia. That stands above the median average for Tattoo Artists in the United States. The top 10% of Tattoo Artists in Los Angeles earn an average of $139,000 a year. Now, for doing something you love, that certainly pays pretty well!
4 – Being A Tattoo Artist In Los Angeles, You'll Meet Some Amazing People. 
People who value individuality and self-expression often include people who associate with tattoo culture. They also understand that getting tattoos is great, but giving tattoos is even better. You will encounter lots of interesting people entering our studio and working in the studio alongside you. As you grow your career as a Tattoo Artist, you will be right in the middle of a community that shares those same core values of ensuring world-class customer service while making a living from their art.
Looking for an apprenticeship in Los Angeles right now? Call/Text 1-310-413-0709
At Ink Different Tattoo School you'll have an instant supportive community of fellow Tattoo Artists. Our mission is to ensure equal opportunity for all who embody excellence in the tattoo industry, inclusive of all ages, races, ethnicities, genders, sexual orientations, and backgrounds. No matter who you are, you'll find your place in our community.
5 – You'll Have The Chance To Set Your Own Schedule, Setting, And Environment As A Tattoo Artist.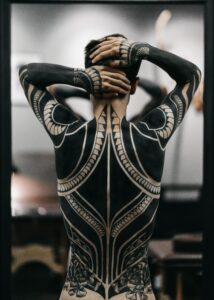 Every tattoo studio operates in its own way. Many run at a wide range of open hours and days. of the week. Many are appointment based as well. 
Depending on where you work, you'll have flexibility in your schedule as a Tattoo Artist. Shops around the country are usually the busiest Thursday-Sunday, but in a town like Los Angeles, you could expect to be busy seven days a week. You could also plan a schedule to give you three-day weekends or days off every other day. 
Some shops may let you choose your hours and your days. There are tattoo shops all over the country and all over the world, so your location options are nearly endless. Ink Different Tattoo School has tattoo studios in five cities, and if you want to have full control over your hours and your work setting, you can even open a shop with us someday. We are always growing!
6 – Celebrities Get Ink, Too. 
When celebrities are out and about in L.A., they are often at games in courtside seats, at fancy restaurants having dinner, or going to tattoo studios. When they find someone they like, they tend to stick with them. People like the late Tupac Shakur, Cate Blanchett, Harry Styles, Amy Adams, Shaquille O'Neal, Rihanna – the list goes on and on. Imagine being asked to come to David Beckham's home to tattoo a new sleeve, or give Academy Award winners fresh ink after a winning night on the strip. You can be giving tattoos to everyone and anyone. 
7 – Tattoo Culture Is Iconic In Los Angeles. 
Like the beach, the mountains, and the sunny streets, art and the art if tattoos hold the same place as other icons around Los Angeles. Art is everywhere in L.A. and that doesn't stop with the canvases. Buildings, streets, fashion, and bodies are extensions of the tremendous art scene in southern California. With deep roots in lots of Oceanic, Asianic, and Latino cultures, tattoos are deep in the heart and soul of the city. Stories of the past, present, and future are being etched into these human canvases. 
Looking for an apprenticeship in Los Angeles right now? Call/Text 1-310-413-0709
Tattoo Artists have this ubiquitous power to draw up the city in a way that is unique, bold, and significant. It has never been an easy task to mark identity in California, but with the power to make bodies into these texts and paintings in a moment, tattoo culture remains one of the truest things to happen in California. 
8 – You Get To Make Meaningful Art That Will Last A Lifetime. 
People search for tattoos for lots of different reasons. Some people get tattoos to carry someone's memory or to mark a significant milestone. Perhaps someone might even ask for something so dear to them so they can remember it always and make visible this part of themselves they carry with them inside. 
Your clients will also get to carry a little piece of you with them, too. It takes a special person to work in a profession like this. There are not a lot of jobs that give you the opportunity to change people's lives and leave a mark on them, literally and figuratively. You get to make dreams a reality. That's special. 
9 – You Will Always Be Learning As A Tattoo Artist. 
Most people can't tattoo themselves. Even when they can, it's a bad idea. Being a Tattoo Artist is a niche job, and you'll find that it will never be stagnant. Working with lots of people, different canvases and different designs means that you will tattoo a wide range of designs, styles, and parts of the body. Every day will pose new challenges, and every day you will work with new sets of factors and combinations that make it new and exciting. 
Over time, you'll find your skills will dramatically improve and your earning potential will also increase. Techniques, styles, regulations, and trends will also change over time, helping to keep you on your toes. This constant activity may even prove to fend off dementia when you're up there in age, and other brain-altering diseases. If you're looking for the opportunity to become a master and always stay a student, being a Tattoo Artist checks all those boxes. The dynamic nature of the profession makes it as vibrant as the art you will get to create. 
10 – You Don't Have To Take A Traditional Path To Become A Tattoo Artist. 
There is a signification number of Tattoo Artists that start in art school and see becoming a Tattoo Artist as a way to make a living and continue to make art. However, even if you spend those four years working and developing skills in design, learning your art history, and building up your art techniques, you will still need to learn how to master the control of a tattoo machine.
There are two main avenues people tend to go down: teaching yourself or becoming a tattoo apprentice. 
Looking for an apprenticeship in Los Angeles right now? Call/Text 1-310-413-0709
Being an apprentice allows you to study under an expert and build your skills and portfolio without the pressure of having to pave the way on your own or infect your friends with infectious diseases while you learn. Apprenticeships also give you the chance to expand your network and often create great ties between you and other artists or tattoo studio. 
Teaching yourself, is a terrible idea. Simply don't do it. Ink Different Tattoo School's Tattoo School is here to ensure you don't end up in a tattoo apprenticeship full of hazing and harassment. Use us. If you attempt to learn through videos on Youtube, you're going to damage your reputation and your clients.
11 – People Want Tattoos, And Young People Want Them More Than Ever. 
Tattoo culture is shifting, and recent tattoo statistics may surprise you. Roughly 46% of people in the US have at least one tattoo. Workplaces are no longer implementing policies regarding visible tattoos, and outdated associations and judgments about tattoos are fading fast from popular view. The tattoo taboo is going… going… gone, and tattoos are subsequently more popular than ever. The tide has changed, and Tattoo Artists are steering the ship. The time has never been better to become a Tattoo Artist.
12 – You Get To Do What You Love For A Living.
People often wonder, "Is being a Tattoo Artist hard?" The answer is clear: Building your career and becoming a Tattoo Artist is not easy, yet your hard work will pay off. 
A lot of factors will make your journey unique. Some days won't be as easy as others. Some people will be easier to work with than others. Some days might be so time-intensive and detailed that you'll be sitting in a chair tattooing for 8 hours with only an outline to show for it. 
You'll find that making wishes come true, creating art, and turning dreams into reality make it all worth it. All those hours you put in will help you admire what you've created when you take a step back and take it all in. You really get to create something out of nothing – and that's pretty sweet. 
Call or Text 1-310-413-0709 to move to the front of the line and interview for an apprenticeship today.