We love tattoos, and if you're reading a blog about tattoo apprenticeships, then you probably love them too. Whether you're checking Instagram for awesome artwork or you're planning your next piece, tattoos are an amazing way to share who you are and what you care about. But when it comes to making tattoos yourself, it can be a bit confusing to even get started. Do you just go from shop to shop asking to start a tattoo apprenticeship or are there tattooing resources online? We know what it's like to have questions, so have created this tattoo apprenticeship comparison infographic to help you ask the right questions to make your decision about finding the training that's right for you.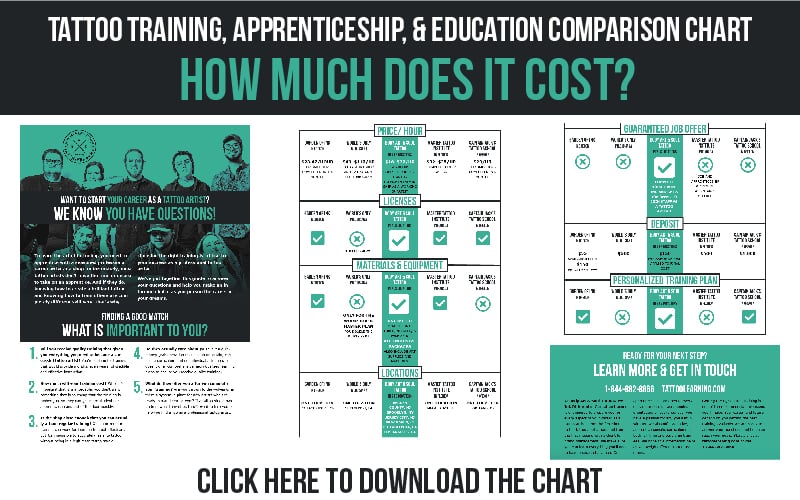 For decades tattoo studios have maintained a pretty exclusive culture when it comes to tattoo apprenticeships, often only allowing artists to apprentice if they look the part and they know someone who already works at the shop. Artists who are people of color, women, LGBTQ, or are told they're "too old" often face discrimination, when all they want to do is learn how to tattoo the right way. But it doesn't make any sense that the color of your skin, your sexual orientation, gender identity, or your age should have anything to do with your ability to create awesome tattoo art and then apply it.
Thankfully we love training new tattoo artists just as much as we love tattoos. In fact, equal opportunity tattoo apprenticeships are not only what makes us unique, they're what drives us forward as a company and a community. We believe that anyone should be able to learn to tattoo and that what makes them unique should be a cause for celebration, not discrimination.
We also believe that artists should be trained by working, successful tattoo artists who have undergone extensive training themselves. If you're going to put your career on the line, you need to make sure that your tattoo apprenticeship has the best trainers possible. On top of that, we believe that tattoo apprenticeships should be done in a clean, professional tattoo studio and not somebody's living room. A sterile, safe environment, like the one you'd work in as a tattoo artist, is where you should learn.
Finally, we believe that tattoo apprenticeships should be about the art and the craft. For ages, tattoo apprenticeships at local tattoo studios have required artists to clean toilets, mop floors, and sit at the front desk rather than actually learning to tattoo. Our tattoo apprenticeships are dedicated to teaching you this ancient art form with cutting-edge equipment and from the best trainers around. We'd never ask an apprentice to do any busy work.
We believe these elements lead to spectacular tattoo apprenticeships and the results agree. Over the years our tattoo apprenticeships have created hundreds of careers and tens of thousands of tattoos. And our tattoo apprenticeships are designed to go beyond just teaching the craft. We also train our artists to develop successful brands, create marketing strategies, and build and maintain a client base that sustains a long-term career.
But perhaps our favorite part of our tattoo apprenticeships is what happens when you finish your training. Most other tattoo apprenticeships wish you luck and send you on your way, or perhaps now see you as competition and have no interest in your continued success. Our strategy couldn't be more different. We provide a guaranteed job offer to work in our studios to every single artist who completes their tattoo apprenticeship. And there's no small print here. If you finish the apprenticeship, you can join our staff. Period.
And why wouldn't we make you an offer? If we're proud of our tattoo apprenticeships we should hire our new artists! There's no better proof of the quality of our tattoo apprenticeships than this promise. This guarantee also allows our apprentices to focus on learning the craft rather than worrying about sending out resumes.
So there you have it! You know exactly what goes into making our tattoo apprenticeships. If you're interested in getting started, we invite you to sign up for an upcoming tattoo workshop where you can learn more about our tattoo apprenticeships, meet our trainers, and even get experience with a tattoo machine! An exciting career as a professional tattoo artist is ahead of you, and we want you to have the best training possible!