How to Recession-Proof your Career by Becoming a Tattoo Artist in Philadelphia
So, are you looking for a way to recession-proof your career? Guess what? Becoming a Tattoo Artist in Philadelphia could be the answer! The City of Brotherly Love is known for its vibrant and diverse art scene, and it's the perfect place to start your career as a Tattoo Artist. In fact, with the proper training and dedication, you could become an in-demand professional who can make a living even during tough economic times. 
Within gig culture, becoming a Tattoo Artist in Philadelphia may be a better choice than becoming an Uber driver due to the potential to make a more significant income. In fact, Tattoo Artists can charge per hour for their services and can receive tips from clients, whereas Uber drivers are paid through a commission-based system that may not be as lucrative. 
Looking for a guaranteed job offer as a Tattoo Artist? Start your tattoo apprenticeship today! 

Additionally, becoming a Tattoo Artist allows you to express your creativity through your artwork while being an Uber driver is a more passive job. Finally, Tattoo Artists may also be able to build relationships with their clients, which can be an added benefit! Remember that a happy client can be any Tattoo Artist's best promotional tool!
Now, read on to learn more about how to make this dream come true and start recession-proofing your career today!
Looking for information for parents of young Tattoo Artists?  Continue reading about parents who want to help their children become Tattoo Artists. 
A Booming Tattoo Industry In Philadelphia
With Philadelphia's booming economy, it's no surprise that wage growth is expected to skyrocket in the next few years. According to experts, the wage growth in the city of Brotherly Love should reach an all-time high by 2023. As a result, Philadelphia workers can expect their salaries to increase significantly over the next few years. This is excellent news for those living and working in Philadelphia, as they will enjoy a higher quality of life and more opportunities for career advancement. You see? This is the perfect time to change careers and become a tattoo artist in Philly!
 Learn more about the profession on our website or read how to change careers and become a Tattoo Artist!
Now, while wages in different industries are rising, so are the general living costs. Let's not forget we ARE in a recession. So this means that at the end of the day, wage increases will not directly ensure that you also have more financial freedom. Luckily, when we looked at wages in November 2022, they were approximately 6.2% higher than in 2021. However, the annual inflation rate in the United States is 6.5%, which makes it a practical tie. So, what can we do to balance this?
Well, during a recession, it's easy to think people should cut back on unnecessary expenses. But to our surprise and benefit, many people still choose to spend money on tattoos during this time. Why? Well, because they view tattoos as a form of self-expression! Most people see it as an investment in their own well-being and self-care. Lately, tattoos have become a means to provide comfort and serve as a reminder of something meaningful during challenging times. While it may sound like a splurge, spending money on a tattoo during a recession can benefit some people's well-being. After all, even in difficult times, we cannot forget about ourselves. The proper balance of responsibilities will always lead to a more productive life.
Want to learn all about how to become a Tattoo Artist? Apply for the apprenticeship program at our Tattoo School! Find a tattoo apprenticeship near me 
Philadelphia Is The Place To Be For Aspiring Tattoo Artists
Ever since we could remember, Philadelphia has been  an excellent city for aspiring Tattoo Artists. In fact, with its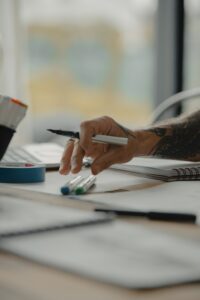 rich culture and art scene, Philadelphia provides many opportunities for Tattoo Artists to make their mark. The city is home to some of the best tattoo studios in the country, offering a variety of styles and techniques for aspiring Tattoo Artists to explore. Additionally, Philadelphia has an active community of experienced and professional Tattoo Artists who can provide mentorship and advice on succeeding in the industry. All these factors make Philadelphia an ideal place for aspiring Tattoo Artists to start their careers. 
The average salary of Tattoo Artists in Philadelphia is $ 56.998. This is more than the annual average of $ 54.132 in other industries, so if you are a parent that wants to help their children become Tattoo Artists, the average salary is not something you should worry about. However, if you wish to learn how to become a Tattoo Artist, you're in luck! With the proper education and training, anyone can become a professional Tattoo Artist. It takes dedication, creativity, and the willingness to learn from experienced professionals. From learning the basics of tattooing to mastering advanced techniques, there are many steps one must take to become an expert in this field. But how to become a Tattoo Artist in Philadelphia? 
Start by finding a Tattoo apprenticeship near you! 
How To Become A Professional Tattoo Artist In Philadelphia
How to become a Tattoo Artist in Philadelphia? The first step is to follow and complete a Tattoo Apprenticeship at Tattoo School. This will allow you to learn from experienced professionals and get hands-on experience with tattooing. Once you complete your apprenticeship, you'll be ready to start your own journey as a professional Tattoo Artist in Philadelphia! During the apprenticeship program, you will learn all about: 
Personal safety and how to prevent infectious diseases; 
Sanitation of your tattoo workstation; 
The Bloodborne Pathogen Test; 
Local licensing requirements; 
Drawing techniques for tattoos that last a lifetime; 
Color theory; 
Professional business and marketing skills; 
How to build a portfolio; 
Tattoo Machine control and maintenance; 
How to create line work and shading; 
Tattoo and imaging composition;
How to use modern technology to implement tattoos; 
Tattoo meanings and history; 
How to run and manage a profitable Tattoo studio. 
After completing your Tattoo apprenticeship, you will have all the knowledge to start your career as an independent Tattoo Artist. In addition, you will receive a guaranteed job offer as a Tattoo Artist in your city. So, if you want to change careers to become a Tattoo Artist, now is the right time simply because you won't have to worry about the recession as a Tattoo Artist in Philadelphia. Ready to take the leap? 
Call or Text 1-310-413-0709 to move to the front of the line and interview for an apprenticeship today.