Entrepreneurship In The Tattoo Industry Of LA
Starting A Business In The Tattoo Industry In Los Angeles
As you know, tattooing has been around for centuries. It has become a form of art that has gained popularity worldwide. In Los Angeles, this has made entrepreneurship in the tattoo industry of LA a great business option for many talented artists.
LA is known for its creative scene and diverse cultures, which have contributed to the growth of the tattoo industry. Therefore, with a high demand for tattoos, many artists have been able to start their own businesses and build a loyal clientele.
One of the advantages of tattooing as a means of entrepreneurship is the low start-up cost. Setting up a tattoo studio requires minimal equipment, supplies, and space investment compared to other businesses. Tattoo Artists can rent a small studio, purchase their equipment and supplies, and start accepting clients.
Another benefit of tattooing as an entrepreneurial venture is the flexibility it offers. Tattoo Artists can set their schedules, work from home, or rent a studio space. This flexibility allows artists to balance their work and personal lives and cater to clients' busy schedules.
Want to learn all about how to become a Tattoo Artist? Apply for the apprenticeship program at our Tattoo School! Find a tattoo apprenticeship near me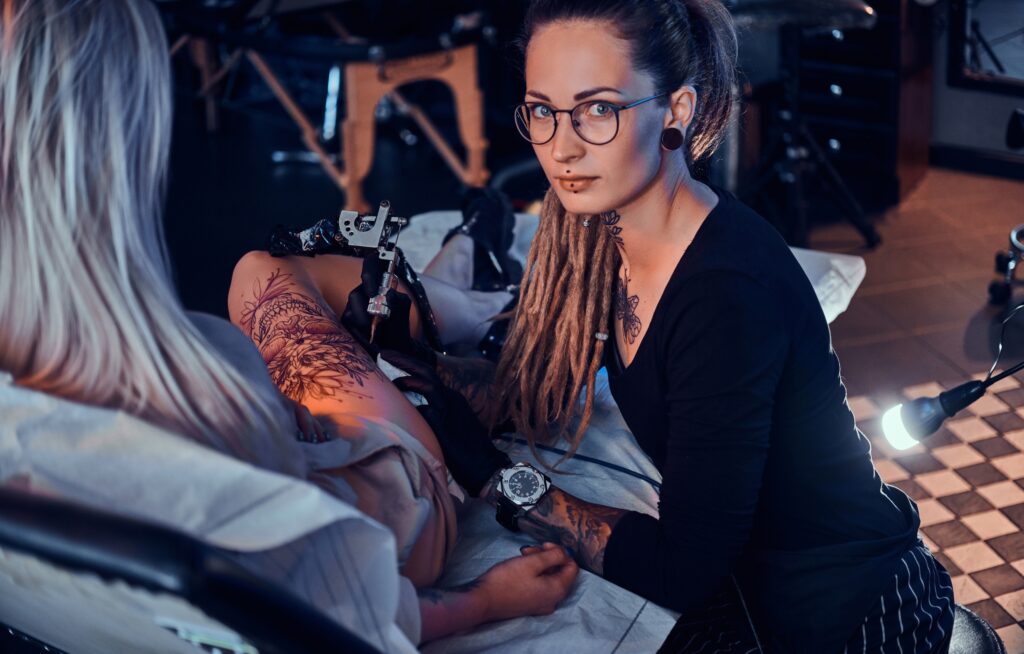 The Tattoo Industry In LA
The tattoo industry in Los Angeles is thriving and has become a hub for talented Tattoo Artists worldwide. The city's creative scene and diverse cultures have contributed to the industry's growth, with many artists showcasing unique styles and techniques. The demand for tattoos in LA is high, with many people seeking to express themselves through body art. This demand has created opportunities for Tattoo Artists to start their entrepreneurship in the tattoo industry of LA. With a focus on health and safety regulations, the tattoo industry in Los Angeles continues to grow and evolve, attracting local and international talent.
Tattooing is a unique industry that relies heavily on word-of-mouth and social media marketing. Many Tattoo Artists build their businesses through referrals and by showcasing their work on social media platforms like Instagram. This type of marketing allows artists to reach a larger audience, connect with potential clients, and showcase their skills.
However, tattooing is not without its challenges. The industry is heavily regulated, and artists must obtain licenses and comply with health and safety regulations. Additionally, building a successful business requires dedication, hard work, and a commitment to continuously improving skills and techniques.
Looking for a guaranteed job offer as a Tattoo Artist? Start your tattoo apprenticeship today! 
Essential Factors To Consider Before Opening A Tattoo Studio In LA
Before opening a tattoo studio as an entrepreneur in the tattoo industry of LA, several essential factors must be considered to ensure success in the industry. 
Firstly, it is crucial to comply with all health and safety regulations set by California. This includes obtaining the necessary licenses and permits, following strict sanitation practices, and ensuring high-quality equipment and supplies. 
Secondly, it is essential to research and understands the local market, including the demand for tattoos, competition, and pricing. This information can help determine the best location for the studio and the type of services to offer. 
Thirdly, having a solid portfolio and reputation as a Tattoo Artist is crucial in attracting and retaining clients. Building a reliable brand, marketing effectively through social media and other platforms, and providing excellent customer service are also essential factors to consider. 
Finally, understanding the financial requirements and risks associated with running a business is essential, including setting a budget, managing cash flow, and investing in marketing and advertising to attract new clients.
How To Get A Tattoo License In Los Angeles
To obtain a tattoo license in Los Angeles, aspiring Tattoo Artists must follow several steps. 
You must complete a bloodborne pathogen training course and obtain a certificate of completion. This course provides information on preventing the spread of bloodborne pathogens and maintaining a safe working environment.
Then you must complete a Tattoo Artist apprenticeship program under the supervision of a licensed Tattoo Artist. The apprenticeship typically lasts two years and involves hands-on training in tattooing techniques, sterilization procedures, and client interactions.
Afterward, apply for a Tattoo Artist license with the Los Angeles County Department of Public Health. The application requires proof of completion of the bloodborne pathogen training course, documentation of the apprenticeship program, and a copy of the applicant's identification and social security card.
You must pass an examination covering health and safety regulations, sterilization procedures, and tattooing techniques.
Finally, the applicant must pay the required fees and wait for their license to be approved before working as a Tattoo Artist in Los Angeles. It is important to note that the license must be renewed annually, and Tattoo Artists must comply with all health and safety regulations set by the state of California to maintain their license.
Looking for information for parents of young Tattoo Artists?  Continue reading about parents who want to help their children become Tattoo Artists. 
Marketing For Tattoo Entrepreneurs
Marketing is essential to running a successful entrepreneurship in the tattoo industry of LA. In a city with a high tattoo demand, tattoo entrepreneurs must stand out and attract new clients. One effective marketing strategy is to create a strong brand identity that reflects the style and personality of the business. This can include designing a logo, establishing a consistent visual aesthetic, and developing a unique voice and tone for all marketing materials. 
Social media platforms like Instagram can help showcase the studio's work, build a following, and connect with potential clients. Other marketing tactics that can be effective include offering promotions or discounts, collaborating with other artists or businesses, and attending industry events and conferences to network and build relationships.
It is also essential for tattoo entrepreneurs to prioritize customer service and provide a positive and comfortable experience for all clients. Word-of-mouth is a powerful marketing tool in the tattoo industry. Satisfied clients are likelier to recommend the studio to others. This means ensuring that the studio is clean, welcoming, and professional and that all staff members are friendly, knowledgeable, and attentive to clients' needs.
Building a solid reputation and establishing trust with clients can go a long way in attracting new business and maintaining a loyal customer base. By implementing effective marketing strategies and prioritizing excellent customer service, tattoo entrepreneurs in Los Angeles can build successful companies and stand out in a competitive industry.
Learn more about the profession on our website or read how to change careers and become a Tattoo Artist!
The Importance Of Education As An Entrepreneur In The Tattoo Industry Of Los Angeles
Ink Different Tattoo School in Los Angeles is an excellent tattoo school for aspiring entrepreneurs in the tattoo industry. The school offers comprehensive training in tattooing techniques, health and safety regulations, and business management, preparing apprentices for success as Tattoo Artists and business owners. With a team of experienced and talented instructors, apprentices receive personalized instruction and mentorship throughout the program. Our school also offers access to state-of-the-art equipment and supplies, ensuring that apprentices are trained using the latest technology and industry standards.
In addition to the high-quality training, Ink Different Los Angeles provides apprentices with valuable resources for building successful careers in the tattoo industry. This includes support with branding and marketing, assistance in obtaining licenses and permits, and access to a network of industry professionals and mentors. 
Our school also offers a Guaranteed Job Offer for apprentices that successfully finish the program within our tattoo studios all over the USA including Los Angeles. We care about providing apprentices a hands-on experience and valuable connections in the industry. Overall, we assure you we are the best choice for aspiring tattoo entrepreneurs seeking top-notch training and support in one of the world's most competitive and exciting tattoo markets.
Sign up for an apprenticeship today and start your journey toward becoming a professional Tattoo Artist! Call/Text 1-917-227-2842